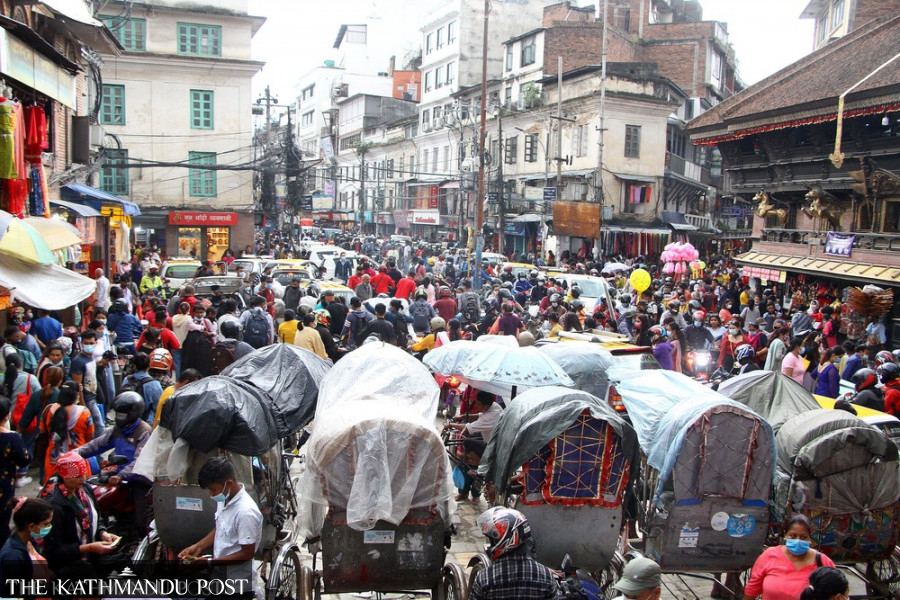 As the holiday season quickly approaches, with Ghatasthapana, the first day of Dashain, five days away, Kathmandu and other cities are seeing increased mobility of people. Almost everything has reopened since September 1 and people are in a festive mood. With a steady decline in Covid-19 cases lately, complacency seems to have set in. Authorities have warned people to strictly follow health protocols, but there is a lack of implementation. Public health experts say increased mobility and festive gatherings could lead to a sudden increase in coronavirus cases. And the main culprit may be the Delta variant.
The Department of Health has already warned people of the presence of the Delta variant circulating in society. Although there has been no genome sequencing on new samples lately, of the 42 swab samples from infected people, collected between mid-August and September, the Delta variant was detected in 41.

Reuters reported on Friday that unvaccinated people were particularly at risk for the Delta variant. Deaths worldwide linked to Covid-19 have exceeded 5 million, according to Reuters. "More than half of all deaths worldwide reported over an average of seven days have been in the United States, Russia, Brazil, Mexico and India," he said.


The fact that India is still reporting a high number of cases and that the Delta variant continues to sweep the world should be of major concern in Nepal, experts say. Nepal shares a long porous border with India and thousands of people pass each other every day in their territories. About 100,000 people are estimated to enter the country during Dashain from India through various border points and officials say it is impossible to keep records of those entering through hundreds of illegal land crossings. The influx of people into the country during the festival means an increased risk of outbreaks of various diseases, not just Covid-19. In the past, outbreaks of diseases such as malaria, kala azar and dengue have been reported immediately after Dashain in many districts.
India has so far reported 448,605 deaths. It reported 23,910 new cases on Friday.
"The Delta variant that caused the second wave in our country is still dominant," said Dr Runa Jha, director of the National Public Health Laboratory. "The virus spreads quickly and can infect many people in a short period of time. "
The number of deaths from Covid-19 has also dropped significantly in Nepal in recent days, which doctors are calling a sign of improvement but they are warning against complacency. Nine people have died from complications from coronavirus infections in the past 24 hours, according to the Department of Health. The number of deaths from Covid-19 over a 24-hour period has remained about the same over the past two weeks.
So far, 11,157 people have died from Covid-19 in Nepal.
Reports suggest the global death rate has slowed in recent weeks, but an average of 8,000 people die each day globally over the past week, or about five deaths per minute.
The penetration of the Delta variant and a large number of unvaccinated people around the world, including Nepal, have therefore highlighted the need to intensify the vaccination campaign. Despite a hitch following the launch of the vaccination campaign earlier this year, Nepal has managed to secure doses of the vaccine in recent months. But the number of fully vaccinated people in the country leaves a lot to be desired.
As of Saturday, 6,348,279 people were fully vaccinated, which represents more than 21% of the 30 million inhabitants. Nepal is expected to receive around 2 million doses of Covishield from India this week. China has pledged some 1.6 million doses as part of a subsidy, but a delivery date has not yet been set.
If the doses do not arrive on time, the vaccination campaign could again hit a snag.
There are no exact data on the number of doses in stock, but officials say the vaccines are available at storage facilities across the country. There were also discrepancies in the data, as the health ministry provided confusing immunization figures. Nepal has so far received 17,858,710 doses from various countries and sources.
Experts say Nepal's total immunization coverage has yet to reach a level that prevents further epidemics. According to them, there could be a new outbreak of infections after the Dashain and Tihar festivals, as the number of unvaccinated population is much higher than that of vaccinated.
"About 80% of the total population has not yet been fully vaccinated and it is evident that the Delta variant of the virus also infects the vaccinated population, which in turn can transmit the virus to others", Dr Prabhat Adhikari, an infectious disease and intensive care expert, told the Post. "As the risk of infection has increased, more tests and more precautions are needed. "
Doctors say that an increase in people's mobility increases the risk of not only a Covid-19 epidemic, but also that of other diseases.
"As the virus continues to mutate, there is always a risk of a new strain emerging. And our complacency could multiply the risk by many, "said Dr Sher Bahadur Pun, head of the clinical research unit at Sukraraj Tropical and Infectious Diseases Hospital. "The holiday season could be an excuse for people to be careful. It could be synonymous with disaster. Meanwhile, authorities must continue to stick to the basics: testing, tracing and processing. "
Health Ministry officials admit the risk of a new outbreak of not only the Delta variant, but other diseases as well.
To reduce the risk of an outbreak, the Division of Epidemiology and Disease Control (EDCD) said it had asked relevant agencies to set up booths in villages to collect swab samples from those suspected of have been infected.
"The chances of an outbreak of a new variant of the virus are still there, and there is increased mobility of people lately," said Dr Krishna Prasad Paudel, spokesperson for the Ministry of Health and also Director General of EDCD. "We have asked all relevant agencies to install sample collection booths in the villages and to make the surveillance system more efficient."
Last week, the division called on all relevant agencies to step up antigen testing at border posts and carry out tests on as many people as possible.
The directive was issued targeting Nepalese based in foreign countries who have started returning home to celebrate upcoming festivals.
"As we don't have an effective mechanism to quarantine people after entering the country, the risks of infections have also increased in villages," Paudel said. "And it will also not be practical to prevent people from returning to their homes in Dashain."
The division has also increased the supply of antigen kits to the border districts of India. In May, the health ministry announced it would perform 25,000 antigen tests every day, but the number of tests has never crossed the 7,000 mark. Officials say local authorities have not performed the tests despite the sufficient number of test kits.
Now there are concerns if the antigen test kits that were provided months ago have expired.
"We have not received any reports from local authorities regarding the expiration of the antigen kits," Paudel said. "We have no reports of whether they have enough test kits in stock. However, we asked them to carry out as many tests as possible on people in preparation for the holiday season. "