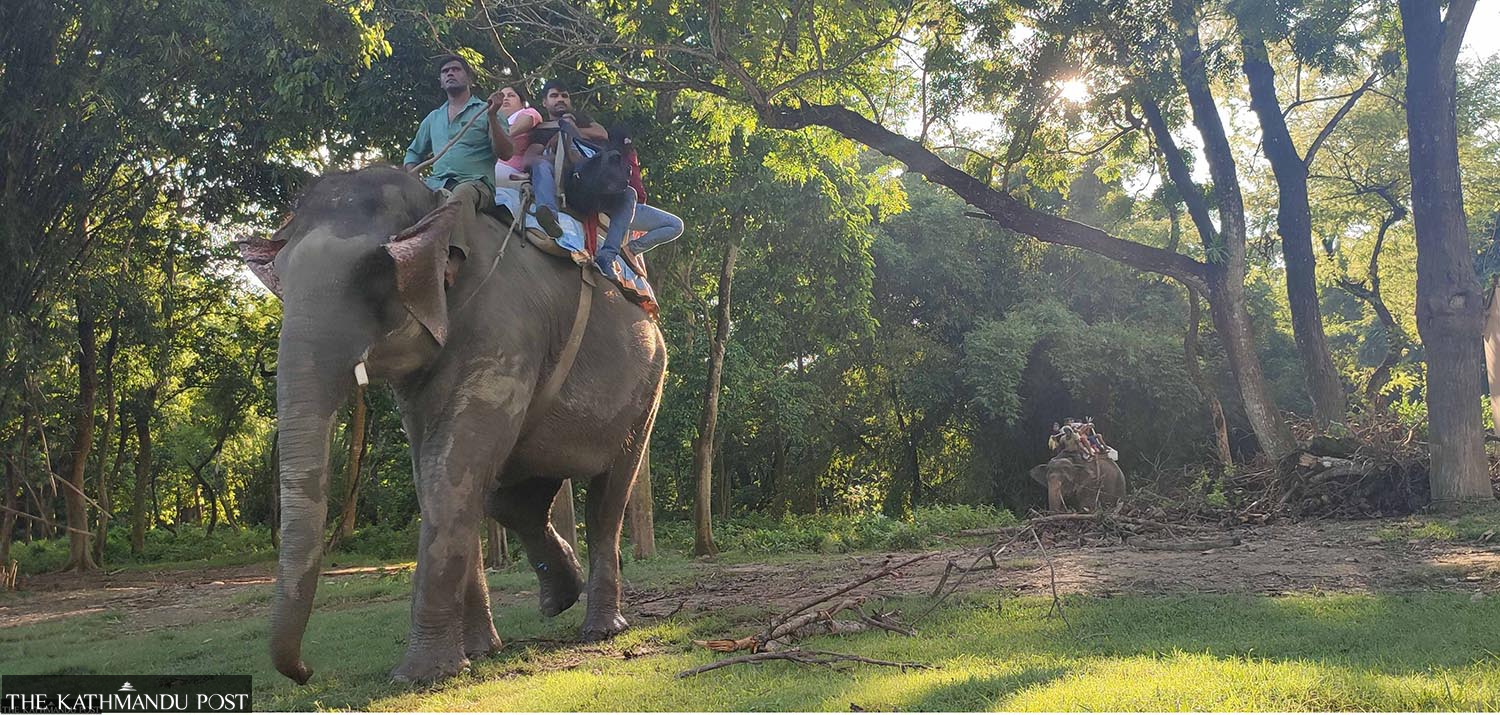 Chitwan National Park received a record number of visitors in the last fiscal year ending July 16, as national safari enthusiasts swarmed the jungle, happy to be free from virus restrictions.
Park spokesman Ganesh Prasad Tiwari said 190,458 thrill seekers including 155,671 Nepalese visited the park in the 2021-22 financial year.
In the financial year 2019-2020, the number of visitors was recorded at 187,109, including 44,623 Nepalese.
Tourist arrivals to Chitwan National Park, located in the Tarai Plains in south-central Nepal, have returned to pre-pandemic levels, officials said.
Foreign tourists stopped coming to Chitwan after the Covid-19 pandemic, but the number of Nepalese tourists started to increase. Park data shows that 89,441 Nepalese visited the park in the 2020-21 financial year.
"The number of domestic tourists was not so large before the coronavirus outbreak. But during the pandemic, Nepalese tourists have become the saviors of the local tourism industry, including resorts and hotels in Chitwan," said Deepak Bhattarai, Chapter President of Hotel Association Nepal Sauraha.
Established in 1973, Chitwan National Park is the country's first national park. Characterized by thick tropical jungle, the park is a habitat for rare wildlife like the one-horned rhinoceros and the Bengal tiger. Tourists come from all over the world to see these animals.
Tourists are also attracted by the customs and cultures of the local communities like the Tharu and Kumal residing near the protected area. Tourists visit the national park by jeep and on elephant back. Canoe trips on crocodile-infested rivers and jungle walks are also hugely popular activities.
In recent times, meetings, seminars and large conventions, including wedding ceremonies, are held in hotels around the park.
Biplap Paudel, owner of Barahi Jungle Lodge, said many large wedding receptions take place at the hotel.
Poudel said Nepali tourists were providing good deals at a time when tourists from foreign countries were stopping coming due to travel restrictions.
"It was not possible to travel abroad during the pandemic, and these high-spending Nepali tourists came to our hotel," Paudel said.
Bhattarai said programs such as symposia, seminars and conventions were held in large numbers. There has also been an increase in the number of Indians coming to Sauraha hotels for weddings from neighboring Indian towns.
Paudel said attracting foreign tourists to Chitwan would be top of the agenda now that the pandemic has subsided.
"The promotion of Chitwan National Park to domestic tourists is going well. With the normalization of Covid-19, more foreigners will come," Poudel said.
"Nepalese tourists may not come in large numbers, but if tour programs are created with proper planning, domestic tourists with money to spend may still come to visit the park," he said. -he declares.
Most of the domestic tourists who come to the park enjoy elephant rides, jeeps and boat rides. Baghmara Buffer Zone Community Forest near Sauraha organizes both elephant safaris and boat trips.
Jit Bahadur Tamang, chairman of Baghmara Community Forest, says there are records of regular domestic tourists coming six or seven times for elephant and boat safari.
"I think new tour programs should be added to Sauraha," Tamang said. "Domestic tourists visiting the park should be well informed about the characteristics of wildlife tourism, the importance of wild animals and their habits."
Rishi Tiwari, chairman of the United Elephant Cooperative run by elephant herders who run elephant safaris in the community forest, says more than 150,000 domestic tourists have visited the park.
"The number of people who bought entrance tickets to visit the park has increased. There are other places in Sauraha that don't require tickets, and they also attract more tourists," Tiwari said.
"There are other places in Sauraha where you don't need an entry ticket," Tiwari said. "Over 200,000 domestic tourists visit Sauraha every year."
Tiwari, who is also a hotelier, says there is a need to offer new programs in addition to the usual jungle safaris and tribal dances by studying the interest of domestic tourists.
"Nepalese are interested in nightlife. But that's not Sauraha's specialty, and something has to be done about it," Tiwari said.
Although the spending habits of Nepalese and foreign tourists are roughly the same, insiders say government revenue and foreign exchange earnings will only increase if foreign tourists come. Tax rates for domestic and foreign tourists are very different.
Chitwan National Park achieved a turnover of Rs 294 million in the financial year 2019-2020. But in the last financial year, even with the record number of tourists, the park earned only about 115 million rupees, insiders said. Revenues plunged due to lower numbers of foreign tourist arrivals.
"It's good that the number of domestic tourists is increasing, but foreign tourists are important for generating revenue," Bhattarai said. "Future tourism plans should be developed with these elements in mind. Government, hotel associations and tourism professionals should bear this in mind."