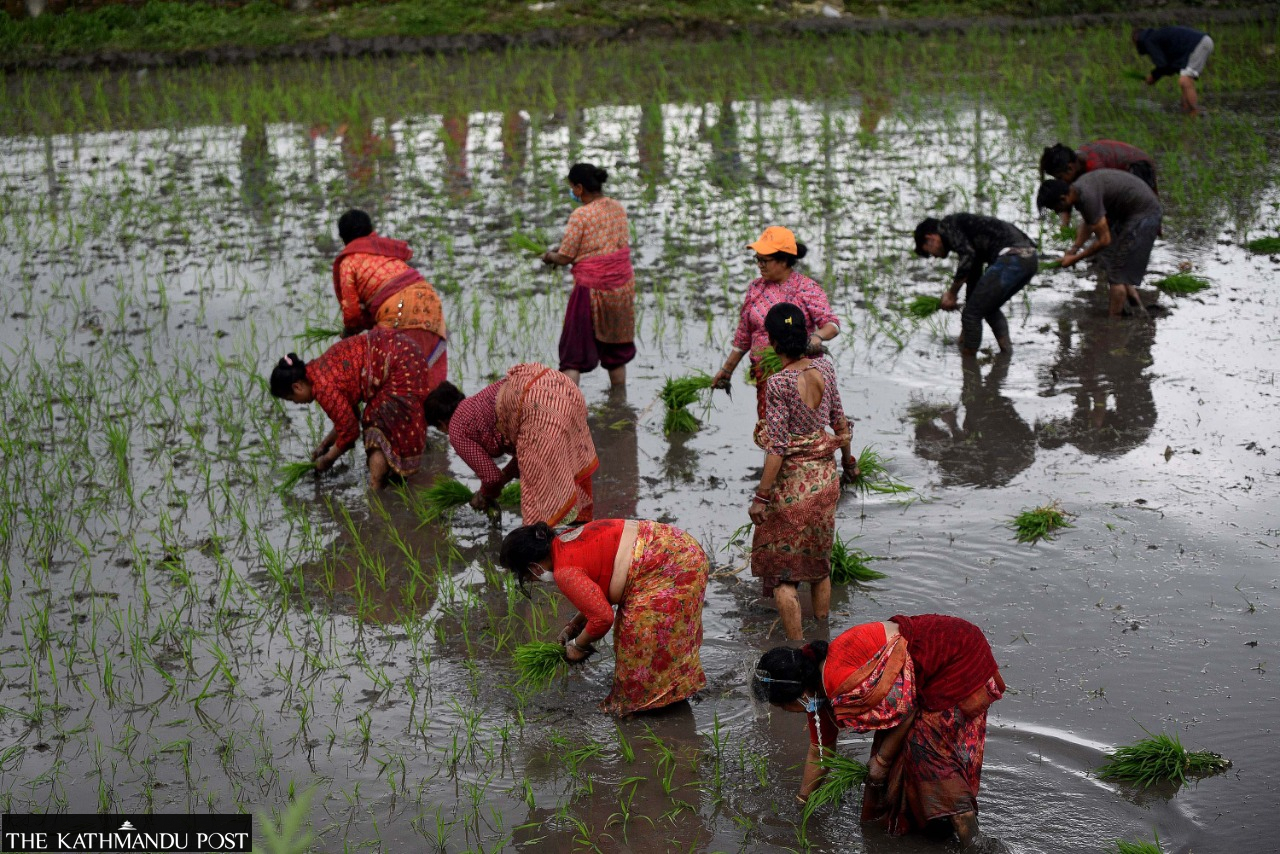 Nepali farmers are likely to celebrate National Paddy Day on Wednesday with a glum face as the government does not seem too concerned with ensuring an adequate supply of chemical fertilizers for the most important crop of the year.
Doubts about getting plant nutrients in the crucial season have dampened the mood of tens of thousands of farmers across the country, and they don't really feel like rejoicing at the annual festival. marking the start of the paddy transplanting season, insiders say.
If farmers cannot get chemical fertilizers in time due to government clumsiness, they face reduced harvests and reduced incomes, which could lead to food shortages and fuel inflation.
The country's economy is already struggling with a slow growth rate, high inflation and low employment rate, which experts say is a sign of stagflation. The loss of output would add further woes to the struggling economy, economists have warned.
The government is struggling to procure fertilizer under a government-to-government deal with India after state-owned companies failed to import in a timely manner, mainly due to high costs.
Fertilizer prices have ballooned four to five times in a year, officials said, and the government would need more than 70 billion rupees in subsidies to meet farmers' demands.
The government had set aside 15 billion rupees to import chemical fertilizers. But at current prices, the money will barely be enough to buy 200,000 tonnes, said an official with the Salt Trading Corporation, one of two state-run supply agencies.
The government-to-government deal, signed in February, was supposed to avoid a long hassle to import products, but it appears to have hit one legal hurdle after another.
The chances of a quick availability of chemical fertilizers appear low, an agriculture ministry official said.
The firm had recently cleared a host of legal hurdles to facilitate an urgent shipment of necessary crop nutrients, allowing the Agriculture Inputs Company to pay a full advance to the Indian supplier appointed by New Delhi. But many legal problems remain.
"India asked us to take delivery of bulk shipments of chemical fertilizers, and that complicated things," said Agriculture Ministry spokesman Prakash Kumar Sanjel.
"Bulk shipping means the fertilizer will be loaded directly into containers without packaging. But our law does not allow us to bring the product without packaging. Even if the product is taken to border checkpoints, it must be properly packaged. So we will have to launch another tender," he said. "That obviously means a lot more time to fertilize."
Agriculture is the mainstay of Nepal's economy, employing around 60% of the total workforce and contributing 25% to the national economy. Post file photo
According to Sanjel, the ministry had sent a letter to New Delhi through the Foreign Ministry last Wednesday with a request for packaged fertilizers.
Nepal had signed a memorandum of understanding with India to supply 150,000 tonnes of chemical fertilizer under a government-to-government deal, but the southern neighbor had promised to send a shipment of 50 000 tonnes of urea and 30,000 tonnes of DAP by mid-July as a crisis mitigation measure.
Experts say that for the first time, farmers around the world are facing a shortage of chemical fertilizers, all at the same time.
Agriculture is the mainstay of Nepal's economy, employing around 60% of the total workforce and contributing 25% to the national economy.
The Ministry of Agriculture and Livestock Development has estimated the annual demand for fertilizer to be around 600,000 tons.
Dhiraj Yadav from Khajani, Rupandehi transplanted paddy on his 7 bigaha (4.69 hectares) farm without using any fertilizer.
"We don't know when the fertilizer will be available. We cannot miss the paddy transplanting date. I did it without chemical fertilizer," Yadav said. He immediately needs 20 bags of fertilizer but doesn't even have a grain of it.
Yadav is encouraged by the abundant rains, but he fears a bad harvest.
In Jwalamukhi Rural Municipality, Dhading, rice farmer Hari Thapa was forced to buy a bag of contraband chemical fertilizer for 2,100 rupees.
"The price depends on the grain size of the fertilizer. Small grain costs Rs 2,100 and large grain costs Rs 2,600 per bag."
As the government was unable to provide subsidized fertilizer, smuggling flourished. Experts say smuggled fertilizers are of questionable quality and substandard products can damage crops.
"Farmers are forced to pay the price set by traders for smuggled inputs," Thapa said.
Another farmer, Raj Kumar Shrestha, said that for farmers, fertilizer is more important than money. "The market is flooded with smuggled fertilizer, but at least it's available," Shrestha said. "Usually a bag of fertilizer would cost Rs 900, but we buy it for Rs 2,800 per bag."
Earlier this month, Agriculture Minister Mahendra Ray Yadav was in New Delhi to follow up on India's fertilizer purchase.
Parliament also called on the government to ensure an adequate supply of chemical fertilizers to farmers.
Officials from the Agriculture Inputs Company, the agency responsible for providing 70% of subsidized chemical fertilizers, traveled frequently to New Delhi and Mumbai to sign a trade deal with Rashtriya Chemicals and Fertilisers, the company New Delhi appointed to supply chemical fertilizers to Nepal.
"Officials are currently in India waiting to sign the trade agreement," spokesman Sanjel said. "After signing the business agreement, we must place an order within two working days and make full payment within two more working days."
The Ministry of Agriculture estimates that the annual demand for fertilizer is around 600,000 tons. Post file photo
Meanwhile, Rajendra Bahadur Karki, managing director of the Agriculture Inputs Company, told the Post correspondent in New Delhi that Rashtriya Chemicals and Fertilizers had agreed to ship 15,000 tons of urea in the first batch.
Karki is currently in Mumbai to sign a business deal.
"The consignment will be shipped from Dhamra Port in Odisha, India," Karki said. "The Indian side will pack the fertilizer with the name of Agriculture Inputs Company in the bags and the products will be delivered to Birgunj by the Indian side."
The trade deal, however, has yet to be signed, he said.
Sanjel said Nepal has also requested India to arrange all available means of transport, train or truck, to ship the fertilizer. "If India delivers the committed fertilizer, our transportation system will not be able to handle shipments on time."
Nepal needs 210,000 tons of chemical fertilizer for the paddy planting season, and it needs 150,000 to 170,000 tons to avert disaster. The paddy transplanting season extends from early June to August. If the monsoon is delayed, the transplant period extends until September.
The DAP requirement for the paddy season is 60,000 tonnes. According to Sanjel, DAP's stock is currently at 30,000 tonnes.
About 7,000 tonnes of urea arrived on Sunday. "We expect an additional 25,000 tonnes of urea to be delivered within days."
Urea is necessary for top dressing, which is carried out three weeks after the end of the transplant.
"We are working out a plan and hope the farmers will get urea for top dressing."
Farmers use urea because it is heavily subsidized. Urea is the most important nitrogen fertilizer on the market, with the highest nitrogen content of 46%. Nitrogen stimulates plant growth.
In Nepal, urea is sold to farmers at the subsidized rate of Rs 15 per kg.
According to reports, fertilizer prices have been climbing for more than a year for a multitude of reasons: soaring prices for natural gas, the primary feedstock for much of the world's nitrogen fertilizers; sanctions against a major Belarusian potash producer; back-to-back storms in late summer on the US Gulf Coast that temporarily halted production in the region; plus the Covid-19 restrictions which disrupted all global supply chains, including chemicals.
China, the world's largest phosphate producer, has limited outbound shipments to build up a stock at home, further exacerbating the global shortage.
Compounding the problem is Russia's invasion of Ukraine, which effectively cut off almost a fifth of global nutrient exports.
(With contributions from our Delhi correspondent Rajesh Mishra and district-based reporters.)