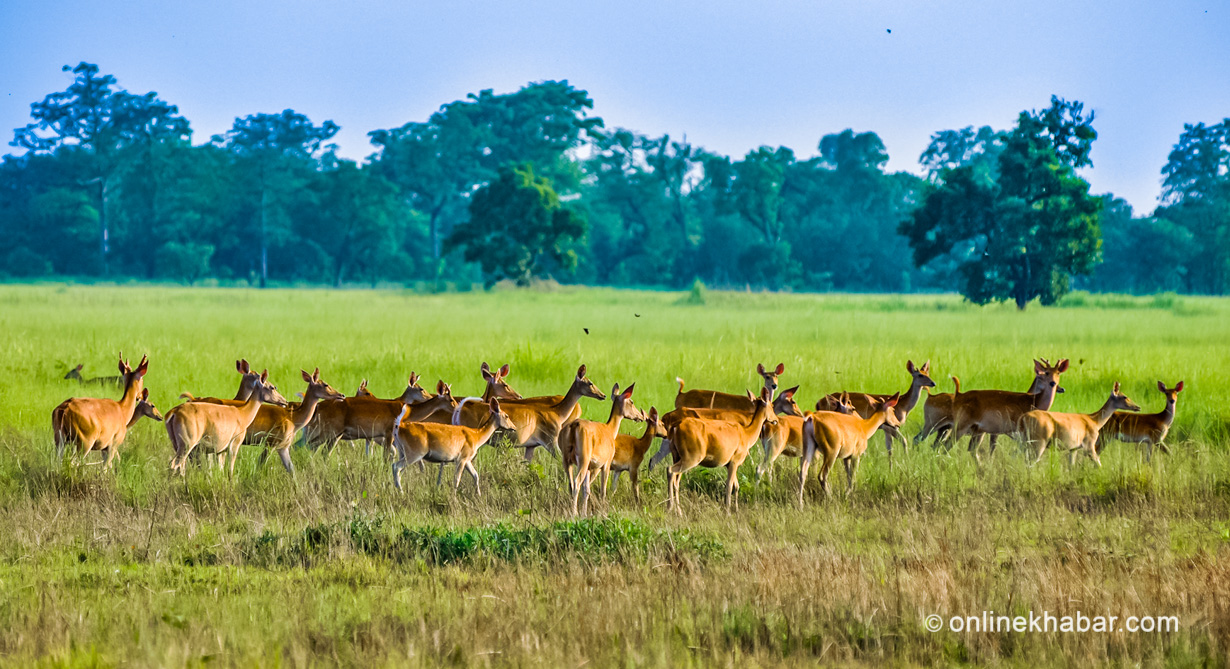 From the opening session of the fourth meeting of the Open-ended Working Group on the Post-2020 Global Biodiversity Framework under the UN Convention on Biological Diversity ended in Nairobi, Kenya on Tuesday, delegates walked out of the room and began to greet and meet informally. Most of them shared their enthusiasm for the promises that the framework, which should be adopted later this year, has delivered.
But the two-member Nepalese delegation walked away from the room in search of peace. Sitting on the open grassland, they talked about their experiences in Nairobi and a popular TV presenter opening a political party in Kathmandu. But, Onlinekhabar wanted to talk with them about the opportunities Nepal has from this meeting.
"We attended a meeting of the Asia-Pacific regional group yesterday and talked about biodiversity in the mountain region," said Gyanendra Kayastha, the head of the delegation. "Representatives leading the group said they had included our concern in the upland issue." Apparently, the Nepalese delegation then remained silent.
But the draft framework as updated by the third working group meeting held in Geneva in March, which is the most recent draft publicly available to date, does not mention mountains or highlands. The Kuwaiti delegation, which spoke on behalf of the region, did not mention them in its opening statement.
During the first three days of the six-day working group meeting (June 21-26) attended by approximately 1,300 participants from 156 countries, Nepali delegates spoke only once. They say their request to speak was denied once. Many other developing countries have also not had the opportunity to voice their concerns for various reasons.
Thus, while financial support for developing countries remained a crucial issue during the Nairobi negotiations, the Nepalese team has little hope that it will benefit Nepal. "I hope that everything will be finalized in Montreal where the 15th Conference of the Parties will be held in December," says Kayastha, implying that his participation in the meeting was just a formality.
Back in Kathmandu, other stakeholders claim that weak government preparations for the negotiations lead to lost opportunities to attract financial resources for the country's biodiversity conservation, which may also be a case of representation. for other developing countries.
A lost opportunity
Whenever political leaders are not attending any UN event, Nepal usually sends joint secretariat or under-secretariat delegations there. But this time, the two members of the delegation are section officers. It is obvious that the country did not prioritize the event, said a government official familiar with diplomatic affairs.
Moreover, the team seems quite ill-prepared. "We're here just to make sure our issues aren't overlooked," Kayastha says, "I'm believed (learning) in this business."
Maheshwar Dhakal, who over the past decade has attended several UN meetings on environment and climate change representing Nepal, says poor institutional memory of government institutions may have resulted in Nepal's low participation in the 'event.
"In recent years, the political and bureaucratic commitment to biodiversity in Nepal has weakened," said Dhakal, also a member-secretary of President Chure Terai-Madhesh's Conservation Development Committee. "In the past 11 months, 35 rhinos have died in our national parks; during the same period, more than 20 people have died due to tiger attacks which will seriously affect our conservation efforts. But, I don't see any official being serious about it.
Biodiversity conservation activist Shristi Singh Shrestha says many of the funds Nepal has previously received have not been successful due to a lack of government oversight and this is likely to be repeated with the new promises too. "It's not just the aspect of economic vulnerability, it's more about the intent of the big political parties, the whole bureaucratic system and big industries."
Over the past few years, Nepal has made many conservation commitments, such as the targets set out in the National Biodiversity Strategy and Action Plan of Nepal 2014-2020, but not even a target was made effectively, claims Shrestha. Until and unless there is a national intention from politicians to implement these plans, nothing will change, she adds.
While Shrestha criticizes the draft biodiversity framework itself for duplication and the lack of a concrete action plan, she says political and bureaucratic commitment should have been instrumental in bringing about change. "But top leaders in Nepal don't even know the basics of biodiversity. On the other hand, people working at ground level are not included in these procedures. In this situation, unless political and bureaucratic leaders take the initiative, the framework will not work in Nepal.
Dhakal also agrees with Shrestha and says that unless the country shows seriousness in the action that it is committed to biodiversity conservation, developing countries like Nepal will find it difficult to attract resources available internationally, as donor countries and organizations prefer co-funding to direct grants these days. .
learn from the world
These sentiments from Kathmandu are reflected in some key discussions in Nairobi this week.
Francis Ogwal, one of the two co-chairs of the open-ended working group on the post-2020 global biodiversity framework, says developing countries are not supposed to wait for funds from the international community even when 'they don't do anything by themselves. "There should be the promise and there should be the action. National governments in developing countries must also take the initiative.
He says, "Governments need to change the budget allocation paradigm if they want to benefit from the framework. If you say you have no budget for biodiversity, that should mean you have no commitment to it.
Ogwal points out that the draft framework has an entire goal (goal 19) to address the financing problem of developing countries, suggesting that they can get as much support as possible if they show their commitment. "Of course there may be challenges, but you have to take your initiation."
He also says that the private sector was also involved in the drafting of the framework, and this would be part of its implementation so that states would not face a budget crisis in trying to achieve the goals.
While Brian O'Donnell, director of Campaign of Nature, an international NGO active in the global biodiversity framework, argues that developed countries must invest a minimum of $60 billion in developing countries in the form of grants (and not loans) to implement the framework, he suggests that developing countries should also demonstrate in their national biodiversity action plans that they are committed to the targets. They should also prepare their national biodiversity finance plans accordingly, which will help donor countries and organizations to be convinced of the implementation of the targets. He says that for this, developing countries must ensure that their domestic resources are also mobilized and invested.
Stanislas Stephen Mouba, the head of the delegation at the event representing Gabon, a African country that thrives on its natural resourcessays some developing countries are already showing signs that they are investing in biodiversity conservation and that countries like Nepal should.
"Many champions come from developing countries. Colombia will reach the 30 out of 30 target (to retain 30% of the area by 2030) this year. Gabon also hopes that we will reach the target before 2030. These countries are investing in conservation partnerships.
Hope against hopes
So, will Nepal follow Colombia and Gabon?
While officials affiliated with the implementing agencies do not speak openly about the issue, activists are critical.
Shristi Singh Shrestha says she is already tired of the hypocrisy of government agencies in Nepal. "On paper, it's great. But, in terms of implementation, no," says Shrestha, "Although there have been conservation efforts and although officials are telling the international community that our conservation practices are among the best in the world. , on the pitch, it's really horrible."
Still, she says she is aware that Nepal, as a third pole country, has a lot of opportunities and stresses that it should be able to seize them. "But, it needs to build strong mechanisms so that people working on the ground can get involved and benefit from it."
Meanwhile, the head of the Nepalese government delegation, Gyanendra Kayastha, said the government has been unable to work effectively to deliver on its promises due to the absence of laws. "We have already drafted legislation to implement the Nagoya Protocolbut the parliament did not adopt it," he says, "we can't do anything if there is no legal basis".
Maheshwar Dhakal says he is aware that conserving biodiversity is expensive and more expensive in developing countries like Nepal. Therefore, he stresses that the government should maximize its efforts to engage the private and non-governmental sectors and attract investment from the international community.
"We need to get everyone to understand that investments in biodiversity conservation will have a lasting impact that will benefit beyond generation."
Will the governments of developing countries like Nepal be able to do this?
"You can't tell now," Kayastha says.
Negotiations will conclude on Sunday. Then, States Parties will attempt to finalize 80% of the Post-2020 Global Biodiversity Framework which will be sent to the 15th Conference of Parties for adoption in Montreal in December.
---
This story was produced as part of a reporting grant at the 4th Meeting of the Open-Ended Working Group on the Post-2020 Global Biodiversity Framework of the 2022 UN Convention on Biological Diversity, led by Internews' Earth Journalism Network.