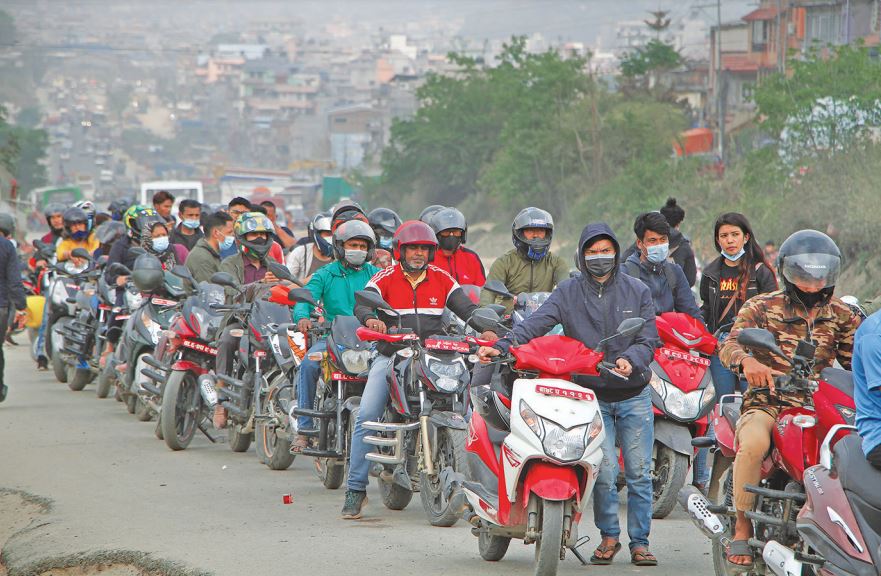 Raman Dawadi from Mulpani, northwest of Kathmandu, was in a festive mood, as it was Saturday. But he learned that there would soon be a fuel crisis.
The 22-year-old rushed to the nearest fuel vendor to fill up his motorbike. But the gas station was closed.
"I went to at least four gas stations to find them closed," Dawadi said. "However, after burning some more gasoline, I found a station in Jadibuti that sold gasoline. And the line was too long.
According to Dawadi, he waited about two hours to get the fuel.
"I'm not used to having my tank full. But I thought who knows when there will be shortages," he said.
Like Dawadi, hundreds of people lined up at various gas stations across the Kathmandu Valley on Saturday, fearing shortages.
"While scrolling through Facebook, I saw a post of people waiting in long lines for fuel," said a man who declined to release his name at Sajha Petrol Pump in the Pulchowk area. "I've been in this queue for about half an hour. I think it will take another half hour because the line is too long.
He was carrying two empty 2.25 liter bottles in the hope of getting extra fuel for his motorcycle.
"What to do? I have to save some for the next few days. Hopefully they will give me some extra fuel," the man in his 30s said.
Fuel shortage fears stem from oil carriers' decision to stop loading and unloading petroleum products from Indian depots, where supplies for the Nepal Oil Corporation come from, and from the national oil monopoly depots.
According to Sajha workers in Pulchowk, Lalitpur, they have been seeing crowds since Friday leading them to seek help from the traffic police to manage the queues.
"Almost everyone wants their tanks full," said a station employee who declined to provide his identity. "At this rate, we too will soon run out of stock and close the station."
The Petroleum Merchants Organization National Coordinating Committee has stopped collecting petroleum products since Friday, saying its demands remain unanswered.
"We will not collect petroleum products and transport them until our demands are met," Bishwo Prasad Aryal, secretary general of the Nepal Petroleum Dealers National Association, a committee member, told The Post.
The committee is made up of the National Petroleum Traders Association of Nepal, the Federation of Petroleum Transport Traders and the Propane Gas Industry Association of Nepal.
He demanded an increase in transport tariffs in line with the rise in the price of diesel. He also asks the Nepal Oil Corporation not to reduce the "commission" oil traders receive.
"Diesel prices have been steadily increasing, but the company is not adjusting transmission rates," Aryal said. "How can we transport fuel? »
The state oil monopoly raised the price of gasoline by Rs.5 per liter to Rs.150 per liter on March 3 and diesel and kerosene prices by Rs.5 per liter to Rs.133 per litre. But it did not increase the commission paid to retailers despite an agreement that it would in the face of rising prices.
Dealers were to get a 3.12% commission increase on petrol and a 3% increase on diesel with the new adjusted rate.
On March 4, oil merchants stopped buying gasoline from oil depots as part of their protest. The committee announced that it would launch a protest if the company did not raise its commission within 15 days.
According to the Nepal Oil Corporation, the price of petrol has increased by 31.35% to reach 155 rupees per liter in one year. The price of diesel and kerosene increased by 36.63% to 138 rupees per liter while the price of liquefied petroleum gas increased by 12.5% ​​to 1,575 rupees. The company revised fuel prices 18 times in one year.
Binit Mani Upadhyay, deputy director of the Nepal Oil Corporation, said transporters had stopped loading and unloading petroleum products from depots from Friday.
"We have asked oil depots across the country to remain open even on public holidays and Saturdays. We have 152,000 liters of petrol and 80,000 liters of diesel in our Thankot depot which are ready to be taken to government owned petrol pumps," Upadhyay said.
After negotiations, however, the two parties reached an agreement on Saturday.
The agitated Committee of Petroleum Merchants took over the protest and agreed to supply fuel, including liquefied petroleum gas.
During a meeting held between the protest committee and the company, the latter undertook to bring an appropriate conclusion within seven days concerning the commission on the distribution of petroleum products and the adjustment of transport tariffs.
In a joint statement, the company said all fuel depots will be open from 8 a.m. on Sunday.
According to Upadhyay, a four-member study group headed by a co-secretary of the Ministry of Industry, Trade and Supplies, which was formed on March 13, had made some recommendations.
"We had asked the agitated oil associations to withdraw their protest on Friday, citing the absence of the company's chief executive and other senior officials who traveled to India for an oil deal that will expire after his five-year term. ", Upadhyay said. "But the agitation committee stopped loading and unloading petroleum products."
According to Upadhyay, the society had asked the agitation committee not to start any protests until June 15.
Regarding the transport demand of oil traders, the company has already received a study report. The report was sent to the Pulchowk Engineering Campus for suggestions.
"It will take some time to implement the new tariffs," Upadhyay said. "We had told the agitation committee that we would respond to their real demands."