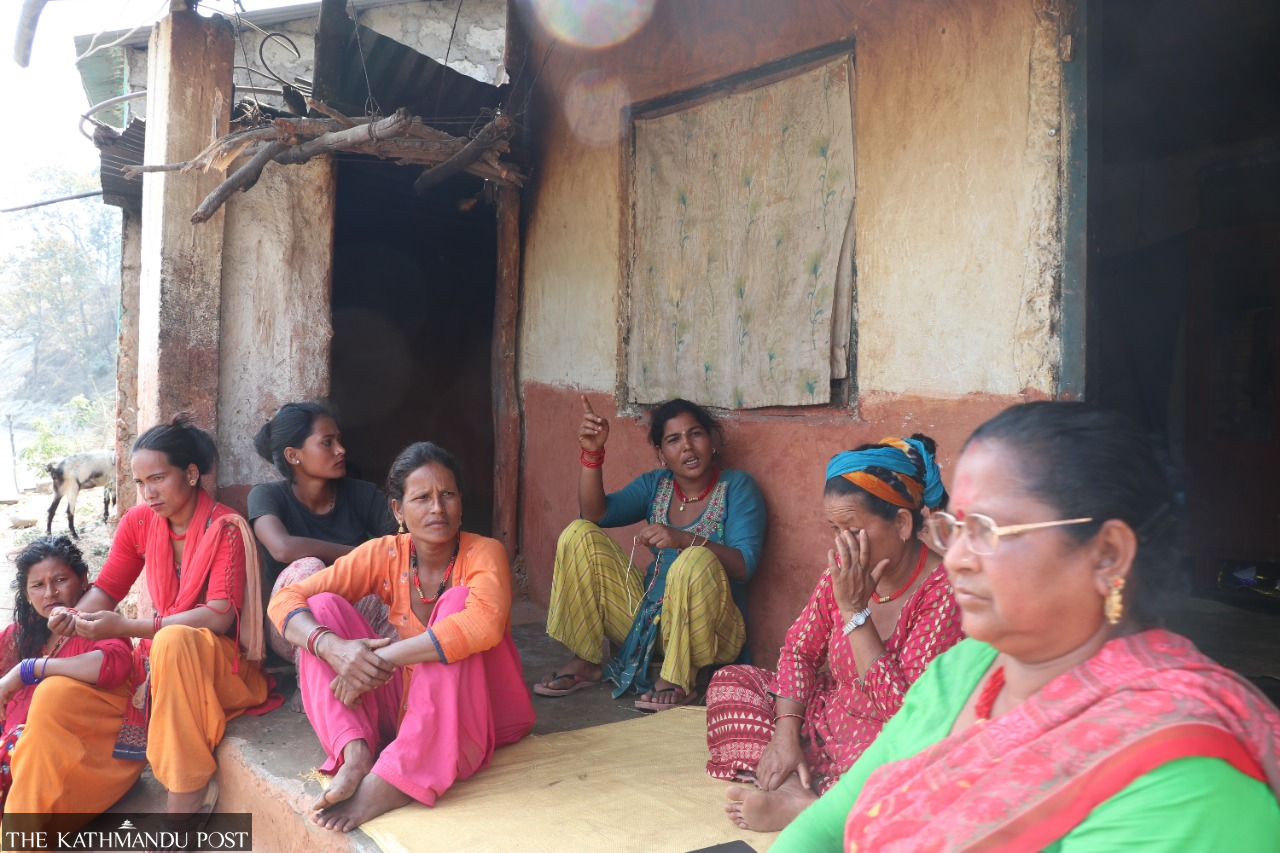 Namuna basti literally means a model colony.
But there is nothing exemplary in Namuna basti in Ward 1, Tallo Dungeshwor of Dullu Municipality, Dailekh. Neither the systematically marginalized and oppressed lives of Basti-the locals nor their government-built houses on the slope of a hill prone to landslides inspire visitors or nearby residents.
Not only are many houses in the basti on the verge of collapse, but those who live there are also experiencing a similar fate.
This continues to be the reality for the Badi people, one of the most deprived and marginalized communities in Nepal's caste system.
Classified at the bottom of the scale even within the Dalits or the "untouchable" caste, generations of Badi have suffered extreme socio-economic marginalization over the past century.
Whether as courtesans and entertainers under the Rana regime or resorting to prostitution for a living, the Badi, especially women, face discrimination and are denied basic human rights. citizens, resulting in extreme poverty in the community.
"Society tells us to earn our due. They say we have hands and feet, so we have to work and win. I agree," says Radha Badi, 35, a resident of Namuna basti. "But where are we going to work? Where are we going to win? Nobody wants to hire us. We have no skills, no education.
There are 35 tight housing units in Namuna basti with about 20 families, of which about 15 families migrated to India in search of better wages.
The others work as labourers, crushing stones or hunting fish in the Karnali River. Many are forced to beg while children sing songs and entertain travelers in the hope of earning a few dollars.
The Nepali government, after decades of protests and resistance, built the Namuna basti for the Badi community. However, for the community, getting a house is not enough to solve its problems.
"We thought having a house to live in would solve our problems, but even though we now live in a mud house, an improvement over tarpaulin sheds, we still need to eat," says Madana Badi. "Give us land so that we can feed ourselves."
According to the national census conducted in 2011, 38,603 Badis live across the country. This number represents less than one percent of the total population of Nepal.
About 43% of Badis has no land while many of the remaining 57% live on public land. About 75% of the Badi can barely feed themselves.
On January 7, 2009, the Pushpa Kamal Dahal administration, following organized resistance from the Badi community, promised them land and training to develop income-generating skills as a means of rehabilitating the Badi community.
The aim was to end the scourge of poverty among the Badis, which was only honored in March 2021 amid the pandemic when some 400 people from the Badi community in Surkhet, Dailekh, Kalikot and Jajarkot districts staged a 16-day sit-in in Surkhet to demand land.
A year later, after signing a five-point agreement with the provincial government at the chief minister's office in Birendranagar, members of the Badi community still do not have access to the land.
The agreement was signed by Rajendra Mishra, secretary at the Ministry of Land Use Planning, and Hikmat Badi, coordinator of the Badi Struggle Committee.
It aimed to coordinate with the federal government to allocate plots of arable land for agriculture to the Badi people and provide grants of up to 1 million rupees for skills development and income-generating enterprises. But the progress has been invaluable.
"Everything was limited to papers. You can see that we have no land even after a year of protest," says sit-in protester Hira Badi. "The province deceived us. They just wanted to send us home, so they said they would accommodate our requests.
Badi community leaders say that despite multiple attempts to get the attention of their local authorities, after the Surkhet sit-in, the authorities turned a deaf ear to them and even denied having documents about the deal.
Such dismissive behavior by local and provincial leaders towards issues that can make or break Badis is a model of political neglect and divisive politics, say land rights activists who believe that governments' neglect of issues such as land rights is due to the lack of political ownership.
The administration of KP Sharma Oli, like previous administrations, had formed a Land Issues Resolution Commission to address the issue of the landless. But it was short-lived.
The government of Sher Bahadur Deuba quickly dissolved the old commission and formed a new Landless Squatters and Problem Solving Commission. This is the 14th such commission formed to distribute land to the landless since the restoration of democracy.
"The newly formed commission had to start from scratch. Sixteen months of hard work by the old commission was in vain. In all of this, the claims of the landless are again sidelined," says Saraswati Subba, chairperson of the National Land Rights Forum.
"The second commission could easily have continued the work started by the previous commission. But that is not happening here because there is a lack of ownership on issues such as landlessness among political leaders.
Badi rights activists, meanwhile, say their plight remains ignored and they continue to be oppressed by all levels of government that exploit the landless as an endless game. The local government simply denies them their rights, the provincial administration pretends to listen and the federal level is inaccessible, according to them.
Badi members who work at the local level share that neighborhood leaders refuse to listen to their demands. From internal meetings to budget allocation, the economic development of the Badi community is constantly sidelined and belittled.
"Whenever I come up with anything related to uplifting the Badi community, it always gets pushed aside. They don't pay any attention to our problems," says Bhumi Badi, a Dalit member from Ward 5 in Dullu Municipality.
Such is the systemic denial of the economic upliftment of the community, according to Bhumi, who wants to run again in the next elections.
After decades of political struggle, many Badi members had hoped desperately that education would be a remedy. They hoped to find an alternative to arable farmland to satisfy their hunger.
Unfortunately, Badi youth face a plethora of challenges in accessing all economic opportunities due to their historically disadvantaged background, including those with accredited certificates.
Sanjay Badi, 26, and Arjun Badi, 25, had completed their tenth grade exams and attended three-year Council for Technical Education and Training (CTEVT) mechanical engineering programs on a scholarship to Dalit students.
However, after completing their courses, they could neither access job opportunities in their village nor afford to start their own businesses.
"We have a lot of passion. We know we can work, but we don't have access to jobs. And we don't have funds to start our own business," says Arjun, who later emigrated to a Middle Eastern country in hopes of rising out of poverty.
Having taken out loans to travel to the Middle East, Arjun and Sanjay claim that all of their income was spent on repaying the loans. On the way back, they found themselves in the same position as before – broke.
Despite the Badi youth's educational backgrounds, nepotism in the workplace, lack of financial access and generations of caste-based discrimination prevent them from earning a living, limiting the food they can afford.
Back in Namuna basti, a five-minute walk descends to an unpaved dirt road that separates the urban municipality of Dullu from the rural municipality of Gurans.
In the afternoon, many Badi families wander around the crossroads hoping to find a job or two that will feed them for the night.
"Our children don't even know what 'lunch' is. We struggle desperately every day to put two meals on our plates," says Devisara Badi, 50. "Don't we and our children deserve to eat?"