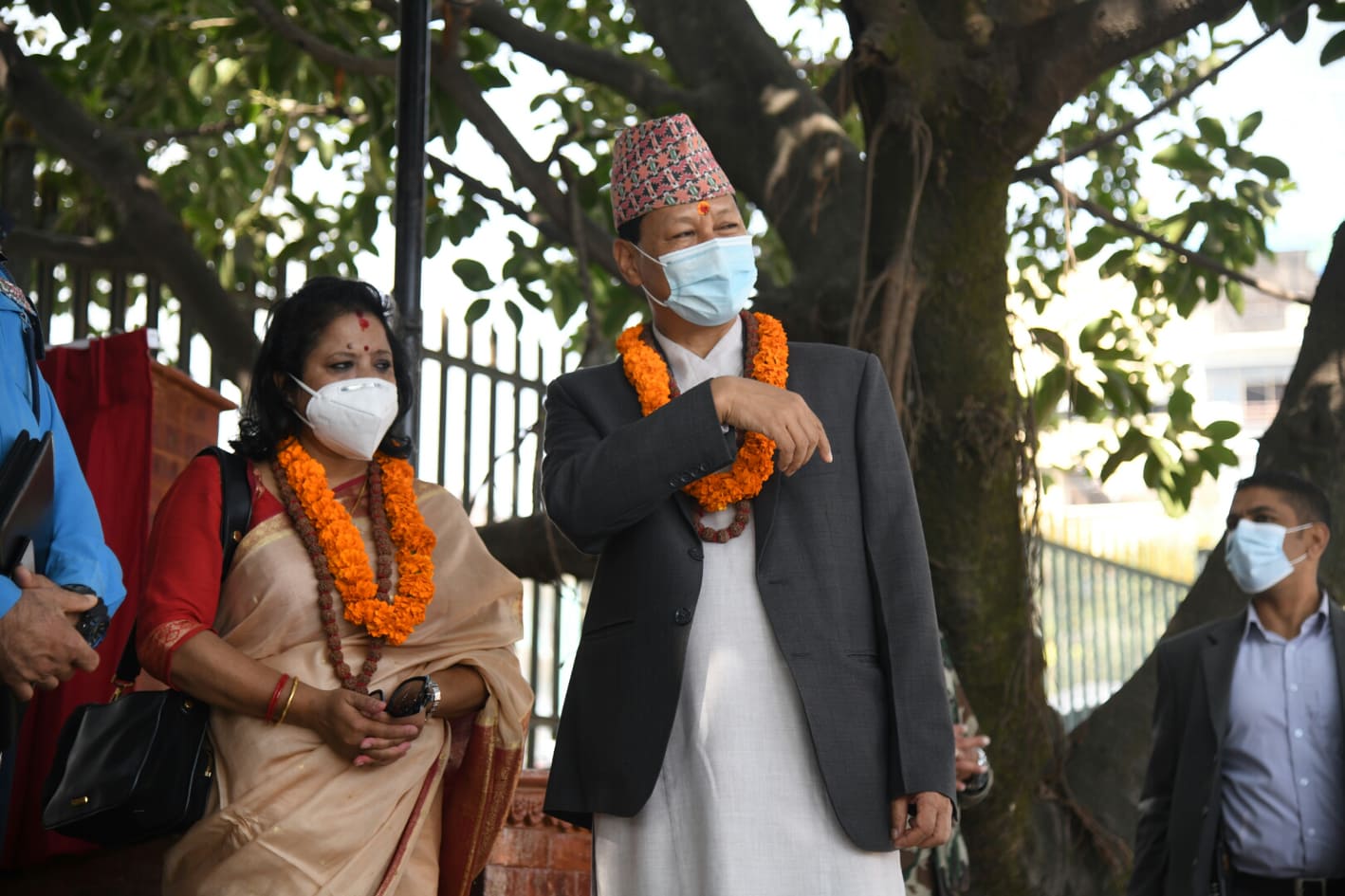 Before being elected mayor of Kathmandu, Bidya Sundar Shakya declared that he would change the face of the city.
"I'm going to make sure we get 101 things done in 100 days," he said before being elected.
Believing in his vision, people voted for him when he became mayor of Kathmandu with Hari Prabha Khadgi of Nepali Congress as deputy.
It has been more than 1,800 days since the two were elected by the people of the metropolitan city of Kathmandu. But during this time, they have not been able to work as efficiently as they had promised, as the city government has not completed the major projects it had planned.
Poor performance
Kishor Thapa, who had contested the municipal elections with Bidya Sundar Shakya, believes that KMC management has failed the citizens of the city.
"The city should have become a beacon of hope for other local units in the country. But he hasn't done anything in five years. It could have changed the development pattern of the city, but they didn't even try," says Thapa.
During Shakya and Khadgi's tenure, the KMC was unable to spend more than Rs 5 billion. Money that KMC was unable to spend on development work was placed in a fixed deposit account as it earned interest.
At the same time that expenditures have decreased, the city's arrears have increased and amount to Rs 4.48 billion, says a report prepared by the Auditor General's Office.
Weak actions
Bidya Sundar Shakya, in his election manifesto, promised to build a monorail around the ring road. He also had an ambitious plan to start a metro service in Kathmandu. He said he would do so within three years of his term.
A team of Chinese engineers had even studied the possibility of setting up a monorail. But after experts warned the project was a white elephant, Shakya dropped the idea.
"The KMC should have focused on developing the city's transportation system. They haven't worked hard enough on it," adds Thapa.
Besides the monorail project, Shakya also had other projects that would have been completed during his five-year tenure had he pushed hard.
Bidya Sundar Shakya had a vision to make Kathmandu a cycling city. To push him, he even jumped on a bicycle. But in five years, the city hasn't even been able to make a bike path. It was embarrassing for Shakya as his counterpart from Lalitpur managed to create a cycle lane in the metropolitan city.
Another contestant who lost to Shakya was Pavitra Man Bajracharya. He says Shakya failed to even make Kathmandu a better commercial city.
"We could have made the city business-friendly and consumer-friendly. But they didn't work effectively," says Bajracharya.
Deputy Mayor Hari Prabha Khadgi admits city officials haven't worked efficiently enough when it comes to policing the market.
"We recently passed a law regarding market surveillance," she says.
The city government also planned to construct a commercial building at Dharma Path. But even that was not going forward. Instead, a complaint was filed with the CIAA accusing KMC officials of working in cahoots with traders to construct an administrative building in Teku. They have also been criticized for trying to demolish the historic Bagdurbar.
There was also a plan to start smart vertical parking and a vehicle-free zone. Both projects did not start. Instead, the KMC has handed over responsibility for parking management in the New Road area to a private company. It was free before.
The KMC led by Bidya Sundar Shakya was also weak in coordination with other sectors of government. The central government had sent a secretary to work with the KMC when it came to development work. But, Shakya said he didn't need a secretary and a co-secretary would suffice. Following this, the government abolished the post of secretary of the KMC.
Former Secretary Dipendra Nath Sharma says KMC should have taken Kathmandu Valley Development Authority as a facilitator and worked on development projects. Unless coordination at this level happens in the city, nothing will change, Sharma says.
"We still work as if we were in the era of Panchyat," he says.
The city government also planned to cover potholes in the city and make it dust-free. But that didn't happen either because the city is only the most polluted in the world.
Lots of controversies
One thing that KMC officials, including Bidya Sundar Shakya, may have done is make headlines for the wrong reason.
The city government's first meeting has come under scrutiny after it decided to use the city budget to buy smartphones. Staff also started withdrawing as much money as they wanted in the name of salaries and other allowances.
They also faced a lot of criticism when they decided to dismantle the old bus parking lot to build a commercial building which to this day is unfinished. The local government moved one of the city's biggest bus stations to Khulamanch. But, after contractors built shutters and rented them out, the city office and Shakya came under heavy criticism.
Mayor Bidya Sundar Shakya had announced that he would also set up a food bank. But during Covid, when the aid workers were handing out free food, Shakya told the aid workers not to do that in Khulamanch.
Shakya was criticized by the Newa community who disliked the way he commissioned reconstruction projects like Ranipokhari, Kamalpokhari, Kasthamandap and Bagdurbar. Number two of his electoral manifesto was the reconstruction of the Sorakhutte Pati. He hasn't spoken about it since he was elected.
The manner in which the road expansion was carried out also shows how Bidya Sundar Shakya was a leader. He said he would make sure to listen to people. But, during the expansions of the Balaju bypass road, many people lost their homes and KMC did nothing about it.
Shakya knows he couldn't do much when it comes to infrastructure development. But, he says he has done a good job in terms of developing the company. He launched an annual allowance of Rs 12,000 for people aged over 84 and Rs 3,000 for disabled citizens per month. However, it was discontinued, the reason being that the KMC was losing its money.
The city government has also talked about deploying volunteers to help the elderly. But, the only thing he did was send the volunteers last year for check-ups of people over 84.
The only thing that got him praise was how he started a collaboration with Manav Sewa Ashram to help people living on the road.
Help the rich get richer
Like any politician, Bidya Sundar Shakya and Hari Prabha Khadgi also promised a corruption-free city. But that didn't happen. Both were actively distributing aid to organizations they were close with while distributing aid to open organizations on behalf of CPN-UML and Nepali Congress leaders.
In the financial year 2020/21, the city alone distributed aid of over Rs 226 million to over 25 organisations. Despite having a hall, the municipal government held most meetings and events in five-star hotels.
dirty city
Bidya Sundar Shakya and Hari Prabha Khadgi would have left a legacy if they had cleaned up the city. But, during their time, waste management has been disastrous as the city stinks more. There had been talk of privatizing waste management. But it hasn't advanced even in the last five years.
Two campaigns – Clean the city and No Mask City – were considered. But, they did not materialize.
They had planned to ask the inhabitants of the city to collect rainwater and recharge the water tables of the city. But, there was no initiation of their implementation.
City officials have been unable to deal with roadside vendors who for the past few years have been treated like strays by city officials as they are regularly harassed by the Metropolitan Police.
The city's internal revenue over the four years has increased from Rs 3 billion to Rs 8 billion. Despite this, the city raised tax rates.
"People who didn't pay taxes continued to not pay taxes. But, people who paid taxes had to pay more. It's unfair," says Bajracharya.
Impressive works
When it comes to justice, however, the Metropolitan City of Kathmandu does some good. The Judicial Committee resolves approximately 300 disputes each year. Currently, there are only 75 complaints to the city office.
The city led by Bidya Sundar Shakya has also done a good job. The municipal office has played an important role in promoting Nepal Bhasa in the schools of the city. But, he could have done more to improve the quality of education in public and community schools, but this is seen as a positive thing. The municipal office is also building a fire station in Basbhari and starting health insurance for the elderly. Dispensaries were also established in all the remaining districts of the city.
KMC also helped set up a dialysis unit at Birendra Sainik Hospital. During Covid, KMC donated 46 ventilators to government and community hospitals. But Mayor Bidya Sundar Shakya has come under fire for staying at the Soaltee Hotel when he contracted Covid. People say he could have done more to help the townspeople.
The KMC has also intensified its efforts to rebuild ward offices using traditional construction methods. He also started building parks around the city. About fifty parks are currently under construction.
---
This story has been translated from the original Nepali version and edited for clarity and length.