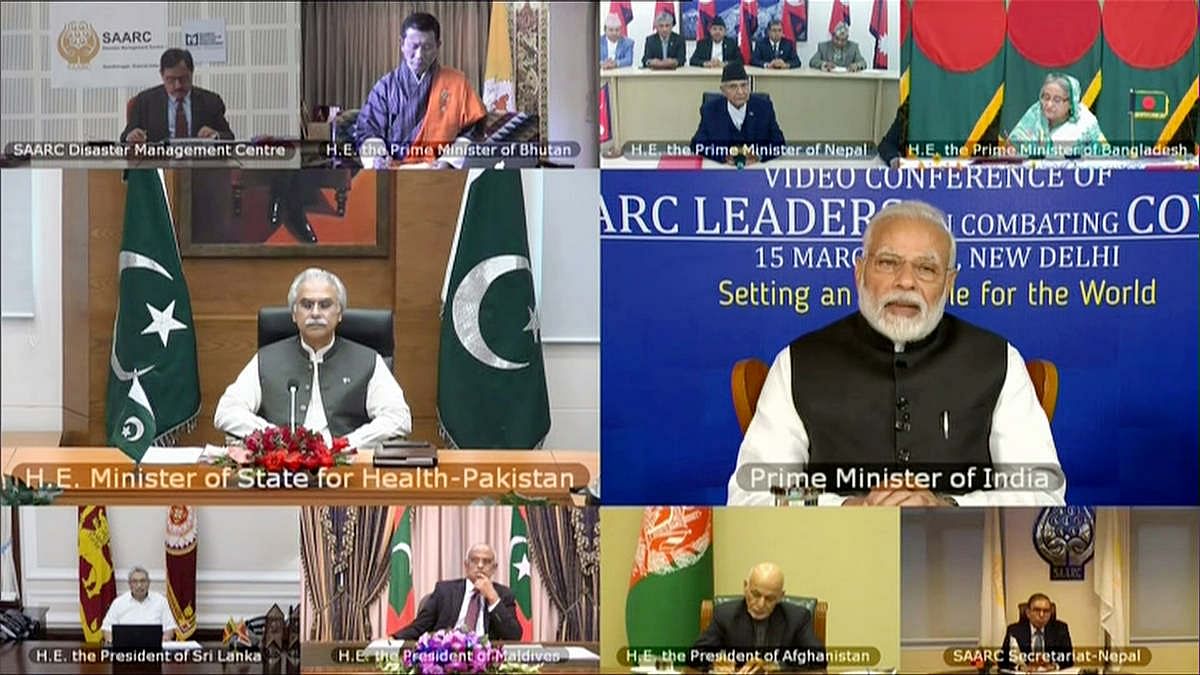 Text size:


IIs it time to throw SAARC in the trash?
The South Asian Association for Regional Cooperation (SAARC) was launched with great fanfare in Bangladesh in 1985 and hosted at that time president HM Ershad, who probably wanted to distract his audience from the military dictatorship he was leading at the time. (He succeeded in his effort by winning the rigged election a year later.)
Fortunately for him, the region ignored his lack of democratic credentials and came forward to promote the "Creation of an order based on reciprocity of respect, equity and shared benefits" – King of Bhutan Jigme Singye Wangchuk, Indian Prime Minister Rajiv Gandhi, President of Sri Lanka JR Jayewardene, Dictator of Maldives Maumoon Gayoom, King of Nepal Birendra Shah and Pakistan Martial Law Administrator Zia-ul Haq.
Fast forward to September 2021. On the sidelines of the United Nations General Assembly this weekend, a scheduled annual meeting of SAARC was canceled because member states could not agree on who should be. invited to represent Afghanistan – Pakistanis wanted a representative of the Taliban, others wanted to keep a symbolic empty chair. They argued, but could not get along. So all the officials went back to their hotels shrugging their shoulders instead of trying to negotiate a compromise.
When the region looks back on the history of its intermittent efforts to try to create a regional identity, that will be the moment when it locks in place – when SAARC collapses, with each nation going its own way, many to China.
---
Read also : SAARC could get stuck in limbo, now because of Pakistan's support for Taliban representation
---
The truth about ASACR
Granted, this is an exaggerated description of the scene. SAARC, most would say, does not fall apart at all, that it exists in the Secretariat in Nepal, in the "Youth Prize", in its Federation of Accountants, its initiative to end violence against children and some other politically correct efforts.
But the truth is, SAARC is well and truly dead in the water. Let's recognize this fact and organize his funeral ceremonies – light his pyre or bury him or both. Rent a helicopter and scatter the ashes on all rivers of all nations. Let's end the hypocrisy that the nations of South Asia care about each other. It is time to move on.
The last SAARC summit was held in Nepal in 2014, after which the chairmanship was transferred to Pakistan. But because the charter rules say that a summit can only take place if all members agree and India's bilateral relations with Pakistan have deteriorated rapidly over the years – even though we We must not forget that Prime Minister Narendra Modi invited all the leaders of SAARC to his swearing-in. in May 2014 – the organization slowly curled up. His last gasps were silenced in New York over the weekend.
Goodbye, SAARC.
However, I cannot let you go, dear reader, without highlighting what could have been – and what is. In 2006, when SAARC met in Delhi, it spawned the idea of ​​a free trade area; nations competed to name the common currency. Today, SAARC is the least integrated world region – less than 5%, according to the World Bank, compared to 35% for East Asia and 60% for Europe. Even sub-Saharan Africa is doing better, with 22% of intra-regional trade.
Things are so bad that it is 20% cheaper for Indian traders to trade with Brazil than with Pakistan. India's total trade with SAARC today hovers between 1.7% and 3.8%, according to 2017 figures, according to a Brookings study. Protectionist policies, the high cost of logistics, lack of political will and a wider confidence gap are the reasons, according to the study. To any South Asian reading this, it all sounds too familiar.
In 2014, at the Nepal summit, Pakistan refused to participate in three efforts to improve connectivity. Subsequently, Bangladesh, Bhutan, Nepal and India attempted to make a transport pact between them – but this failed because Bhutan's standards for vehicle emissions were much higher than those of the India, for example. In 2019, the Pulwama terror attack paved the way for an Indian strike deep within Pakistan, which took the relationship to a new low. In 2021, Pakistan would have liked the Taliban regime in Afghanistan to be part of SAARC, but for now other countries have opposed.
---
Read also : It is clearer than ever for India that Quad is not a military alliance. Everything is a little AUKUS
---
Other groups take over
As SAARC twists in its own spit, other regional groupings have sought to take its place – BIMSTEC or the Bay of Bengal community, authored by India; CASA-1000, an electricity transmission project between Central Asia and Pakistan; CPEC, between China and Pakistan; and BRI or the China-led Belt-and-Road Initiative which has established links with all SAARC countries except India and Bhutan.
As China becomes militarily and economically more powerful, its ability to write a check and hand it over to poorer SAARC countries – for example, President Xi Jinping's $ 26 billion pledge to Bangladesh in 2016 – has increased with proportional ease.
In fact, the Brookings study notes, China has increased its exports to SAARC from $ 8 billion in 2005 to $ 52 billion in 2018, an increase of 546%.
China is no longer the elephant in the SAARC room, it occupies the entire zoo.
As Prime Minister Modi returns from his first post-pandemic overseas visit and returns headlong into the politics of our time, it seems New Delhi prefers to jump over its neighborhood and connect with more powerful nations like the United States, France, the United Kingdom, Russia, etc., with powerful groups like the Quad.
But if India is to be taken seriously as a regional actor, it must learn to get along with its neighborhood. Instead of downgrading SAARC, or killing it altogether, perhaps the prime minister should look again at this group's problems and define a national strategy that encompasses both politics and economics.
Perhaps in its 75th year of independence, India should do itself a favor and seek out new and creative ways to revive this dying group. Because if it doesn't, SAARC will surely die an unwanted death.
Jyoti Malhotra is a Senior Consulting Writer at ThePrint. She tweets @jomalhotra. Opinions are personal.
(Edited by Prashant)
Subscribe to our channels on Youtube & Telegram
Why the news media is in crisis and how to fix it
India is all the more in need of free, fair, non-hyphenated and interrogative journalism as it is facing multiple crises.
But the news media are in a crisis of their own. There have been brutal layoffs and pay cuts. The best of journalism is shrinking, giving in to crass spectacle in prime time.
ThePrint employs the best young reporters, columnists and editors. Supporting journalism of this quality requires smart, thoughtful people like you to pay the price. Whether you live in India or abroad, you can do it here.
Support our journalism