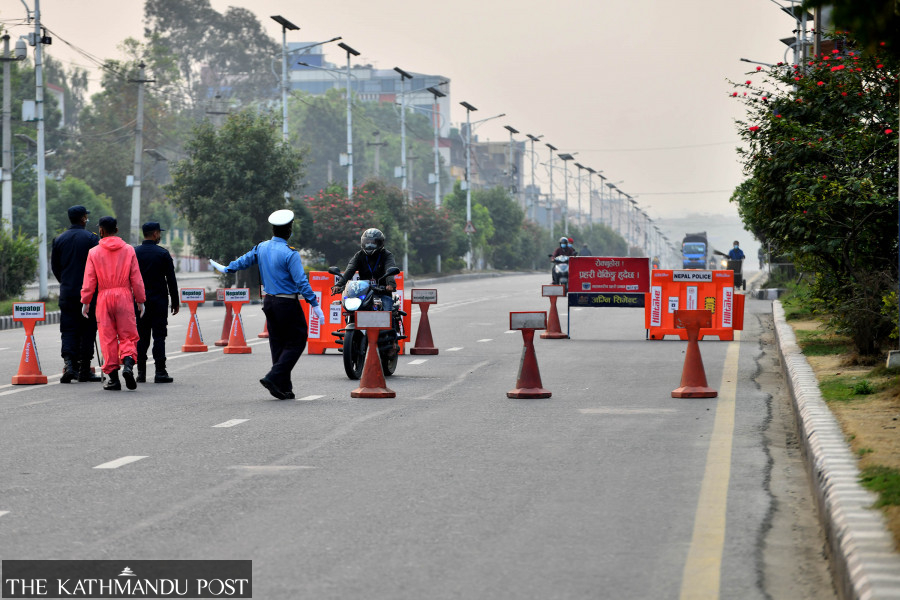 Last Thursday, the three Kathmandu Valley district chiefs held a meeting to extend the Covid-19 ban orders by 10 days from Friday without any substantial changes in their previous announcements.
This time, too, the administrators of the valley announced the maintenance of the ban on public gatherings and gatherings, and the closure of trading houses that draw crowds. The prohibition notice states that hair salons, beauty salons and gyms will remain closed during the restriction period.
The orders, however, are limited to a simple "announcement" as hardly anyone follows them, according to health experts.
Rallies and mass rallies were ubiquitous on valley roads last week after the Supreme Court overturned KP Sharma Oli's May 21 decision to dissolve the House of Representatives and ordered President Bidya Devi Bhandari to appoint President of the Nepalese Congress Sher Bahadur Deuba as Prime Minister.
In accordance with the prohibition orders, public vehicles can only transport passengers up to their reception capacity by following the health protocol and restaurants can only offer take-out services until 7 p.m., among other things.
There are, however, complaints that valley authorities are paying little attention to curb enforcement. District leaders seem to only renew orders periodically.
"The problem with Valley administrators is that they meet and make a decision. They don't care about effectively implementing their announcement, "said Dr Baburam Marasini, former director of the Division of Epidemiology and Disease Control.
The country reported 1,223 new cases of Covid-19 with 23 deaths on Sunday. Of the total infections, the Kathmandu Valley recorded 334 new cases in the past 24 hours. According to the Ministry of Health and Population, 234 cases have been confirmed in Kathmandu, 64 in Lalitpur and 36 in Bhaktapur.
Marasini says there are three things missing between government authorities: mobilization, capacity building and coordination. "Once these authorities have made their decisions, they should mobilize the necessary manpower to ensure that the decisions are implemented," said Marasini.
In the past week, almost every restaurant has opened its doors to customers, with some appearing to be quite full of people having meals with family and friends.
"The district chiefs could have coordinated with the Nepal Hotel Association and with their help they could have established certain protocols to serve the customers, but they are too lazy to make effective plans," said Marasaini.
He expressed fears that the current trend of uncontrolled public and mass movements could lead to devastation. "We are still in the risk zone, and at any time the third wave could strike if the pandemic is not taken seriously," Marasini said.
He even accused the government authorities of not coordinating with public transport operators for an effective implementation of the health protocol.
Although the notice issued by the Kathmandu District Administrative Office states that public vehicles operating inside the valley will need to ensure that passengers wear masks, and that drivers and assistants wear masks, visors and gloves and place disinfectants on the door of every public vehicle, they are hard to find. Safa tempos and blue microbuses cannot carry more than nine passengers and are required to put a plastic sheet separating the two sides in the aisle but this is difficult to find.
Most tempos and microbuses operate without installing plastic screens, and public vehicles carry passengers beyond their capacity during office hours. Although the government has not yet allowed public transport vehicles to travel on long journeys, private and public bus operators still carry passengers by charging them exorbitant fares by misusing issued passes. by local authorities.
Announced on April 29, the banning orders have remained in Kathmandu for more than two months now even though most restrictions have been relaxed in recent weeks. During the first week of June, the lockdown was gradually relaxed. After the third week of June, when public buses were allowed to run on odd and even number plates and businesses to operate every alternate day, authorities ignored effective curb enforcement. .
Dr Sher Bahadur Pun, head of the clinical research unit at Teku-based Sukraraj Tropical and Infectious Disease Hospital, said lax government agencies and the public could create a difficult situation. If there is a worrying new variant, it will fuel a potential third wave of coronavirus, Pun said.