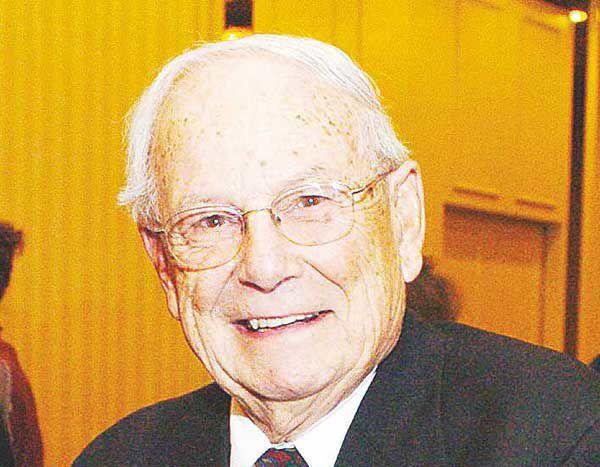 The widow of former Manchester Mayor Emile Beaulieu continued the Hillsborough County Nursing Home, claiming that health professionals at the household mistook her stroke for fentanyl withdrawal, preventing early treatment and leading to her untimely death.
For seven days, Beaulieu showed symptoms such as lack of appetite, confusion, lethargy and an inability to speak, according to the lawsuit, which was filed in Hillsborough County Superior Court in Manchester.
Nursing home workers attributed his symptoms to fentanyl withdrawal, but Catholic Medical Center diagnosed him with a stroke when he was taken there for a CT scan on December 27, 2016, according to the costume.
The lawsuit said he suffered a stroke on December 19 or 20. He died on December 30 at the age of 85.
At the time of his death, Beaulieu's daughter revealed that he had been addicted to pain relievers for years.
"I didn't know the elderly were getting fentanyl patches. That's what they gave him, and it was pretty much the end of his life, "said Jane Beaulieu, state representative and member of the Manchester School Board.
Beaulieu said she was not in contact with Laurette Beaulieu, her father's widow, her estate administrator and the party who filed the complaint.
In a statement read to a reporter, the law firm representing the county said it regretted that Beaulieu's death had given rise to litigation.
"By all accounts, he was, like many of his generation, a wonderful person," said Lawrence Smith of Concord of Rath, Young & Pignatelli. Hillsborough County denies all claims in the lawsuit and maintains Beaulieu's care and treatment was always appropriate and met applicable standards of care, he said.
"Nothing that Hillsborough County Nursing Home staff did that caused or contributed to Mr. Beaulieu's death or the injuries and damage alleged in the lawsuit," Smith said.
The costume names Nursing Home Administrator David Ross, Nursing Home Medical Director Dr. Zubin S. Batlivala, Nursing Home Social Worker Sheryl Ramsay, Nursing Director Tonya Dubois and Nurses Amy Ferland , Carolyn Daigle and Leeann Preston.
Manchester lawyer Leslie Nixon represents Beaulieu's estate.
"(Beaulieu) suffered both physically and emotionally until his death, and required extensive and expensive medical treatment and prolonged hospitalization until his death," the lawsuit reads.
Beaulieu served two non-consecutive terms as mayor, ending the 1980s. He was a modest little businessman and his supporters emphasized his impartiality.
He was one of the founders of Big Brothers Big Sisters and served on the boards of organizations that worked to improve children's health and provide job training for workers.
His obituary listed five children and three stepchildren.
The lawsuit said CMC transferred Beaulieu to the nursing home in early December 2016 for rehabilitative care for severe chronic degenerative disc disease and spinal stenosis.
He had other risk factors including stroke, high blood pressure, coronary artery disease and congestive heart failure.
While there, Batlivala ordered her treatment with a 12 microgram fentanyl patch and increased it to two patches a day later, according to the lawsuit.
Nurses and the social worker reassured the family that he was not getting too much fentanyl and said he was in good hands, according to the lawsuit.
On December 19, his blood pressure dropped and he started showing symptoms such as difficulty waking up, not speaking, not eating, and being confused.
On December 22, the doctor stopped the fentanyl and the symptoms continued. When the family told nursing home workers that Beaulieu may have had a stroke, they attributed the symptoms to fentanyl withdrawal, the lawsuit said.
He was transferred to the CMC on December 27, where he was diagnosed with a stroke.