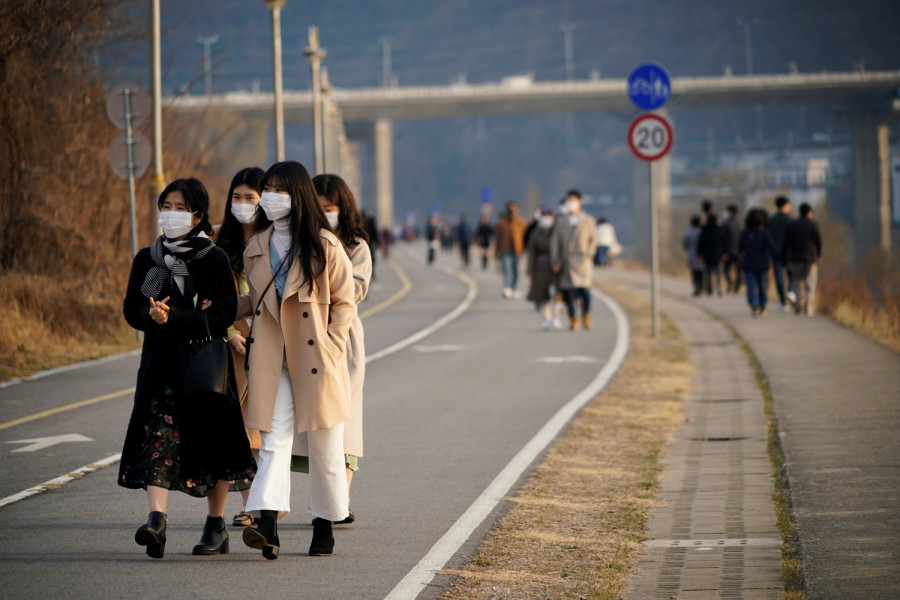 After a wait of more than 16 months, a ray of hope emerged for thousands of Nepalese workers who were waiting to reach South Korea for employment.
South Korean authorities have hinted that they will soon start allowing entry for Nepalese workers who have been stuck at home since last year due to the Covid-19 pandemic.
During their recent discussions, the Nepalese and South Korean authorities agreed to resume the migration of Nepalese workers to the East Asian country in a few weeks.
According to Krishna Prasad Dawadi, director general of the Ministry of Overseas Employment, the central agency overseeing the overseas employment sector, the Korean side is in favor of welcoming Nepalese migrant workers.
"During our discussions and correspondence, the Korean side has shown a positive intention to welcome Nepalese workers in the near future," Dawadi told the Post. "As international flights have resumed and there are also direct flights between South Korea and Nepal, they had to consider starting to hire Nepalese workers again. "
Labor migration to South Korea has faced hurdles since the first week of February 2020 after Covid-19 cases began to increase in many countries around the world, including Korea. South.
Later in the same month, the migration of young Nepalese to South Korea was temporarily halted after a sharp rise in Covid-19 cases there.
Since then, Nepalese workers have not been able to travel to Korea although labor migration to several other countries has resumed, after months of suspension due to the pandemic.
Several thousand Nepalese workers, who had passed Korean language and skills tests and qualified for Korean jobs, were forced to return home, risking losing their hard-earned opportunities.
They had also organized protests in Kathmandu to attract the attention of the authorities to take initiatives to resume labor migration to South Korea.
The last hope of reopening South Korea for Nepalese workers, however, comes with some preconditions.
"The Korean side visited us and expressed their intention to allow Nepalese migrants," Dawadi said. "They also proposed certain conditions to allow Nepalese workers. "
The proposed conditions are that Nepalese workers must travel to South Korea by direct flights, not in transit, pay their medical insurance, which will cover the costs of the Covid-19 treatment, and pay the mandatory hotel quarantine set by the party. Korean.
"After their proposal, we also discussed the matter with Nepalese candidates, who are waiting to travel to South Korea. They also accepted these conditions, "Dawadi said. "The Korean side has verbally informed us that they will welcome Nepalese workers, but no official decision has yet been taken."
The latest development is a beacon of hope for nearly 8,000 Nepalese migrants, including newcomers and returnees, who have contracts for their second stay in Korea, according to government data.
The Nepalese migrants, who have been waiting to reach South Korea since last year, not only welcomed the recent developments, but also agreed to abide by the conditions set by the Korean side.
"We are aware of the latest discussions on resuming labor migration to South Korea. We are also aware of the preconditions and we are ready to meet them, "Ajay Sodari, a Korean job candidate from Ghodaghodi Municipality in Kailali, told the Post. "Most of the people I know are willing to take a direct flight, pay for medical insurance and quarantine facilities in South Korea."
Sodari was among 6,773 people who passed both the language test and the skills test to get a job in Korea in 2020 under the Work Permit System (PSE). However, before he could fly to Korea, Covid-19 struck and his dream of working in Korea was shattered.
Candidates like Sodari have invaded government agencies like the Ministry of Labor, Employment and Social Security, the Ministry of Overseas Employment and the Korean section of the Work Permit System (EPS) for s 'to inquire about their prospects of reaching South Korea since last year.
"Even on Monday, we met with the secretary of the Ministry of Labor and the director general of the Department of Overseas Employment," Sodari said. "After a long wait of 16 months and frequent meetings with government agencies, this time we see some hope. The new conditions will increase the financial burden on us, but we are prepared to bear them. "
Nepalese are waiting to reach South Korea agreeing to bear the extra cost also because the East Asian country remains a favored destination for aspiring Nepalese workers for its better pay, safety and other facilities. compared to the Persian Gulf countries.
According to statistics from the Nepalese government, more than 65,000 Nepalese workers have traveled to South Korea since 2008 as part of the PSE.
As of January of this year, the minimum wage in South Korea was increased 1.5% from 8,590 South Korean won to 8,720 (around Rs892-Rs904) per hour.
But it looks like Nepalese workers desperate to reach South Korea will have to wait a bit longer for the official announcement.
"It is likely that they will take dedicated workers, who have served in South Korea before, in the first batch, although details are unclear on subsequent groups," Dawadi said. "First batch of Nepalese candidates appear to fly to South Korea next month [Shrawan], but there is no fixed date or number of workers they will take from now on. "